I have a little secret...tools for doing your own nails don't have to be fancy and expensive and come from the beauty supply store or be ordered online. Chances are, you already have things you can use or can obtain really easily around your house or at your closest store for pretty cheap.
Paintbrush (preferably skinny, square tip) This might cost you a little bit more because you can't use the cheapy ones from the kid's painting aisle as it needs to be able to hold up to acetone (unless you choose to use acrylic paint). I seriously use a run of the mill paintbrush when I do French manicures. The process consists of painting the tips the color you desire, and going back and using the paintbrush dipped in acetone to make the crescent shape. Also incredibly handy for glitters and you can use the opposite side as a dotting tool.
Shotglass Yep, I pour my acetone in a shotglass. I've also mixed colors in it, marbled out of it and soaked off acrylics in it. Very handy thing to have.
Toothpicks Good for small dots and points. Buy the ones with a point on one side and a flattened base for a larger size to try.
Needles Use the head of a pin to make designs on your nails. Use the point for scrolling or thin lines. For better stability, stick it into the eraser on a pencil.
Tape Paint the desired color on your tape, let dry, apply polished tape to nails like a nail sticker and cover with a top coat. Excellent for different shapes, striping, and color blocking. Also REALLY handy for water marbling. Check out @cutepolish for a really cute mani to do using tape
Lace/Netting Old fishnet stockings (what? no one else has some of those laying around?), cheesecloth, the plastic netting from bags of produce (usually see them with onions, oranges, lemons), strip of lace, ect. Fabric net can be used to dip in material and apply a pattern onto the nail, or wrap the fabric/lace around the nail and paint and then remove to see the pattern. Plastic netting works really great if you tape or hold it on, paint quick dry polish over the top, wait and then remove for a pattern that can be left to look like fishnet nails, or painted to look like snake skin polish.
Straws Carefully roll the edge of the straw in polish like you would a margarita glass (don't just jam it in polish) then apply to nails. Or check out this video from @MissJenFABULOUS
Bobby Pins Give it a bend and use it as a dotting tool.
Cotton Swabs Good for clean-up around those edges.
Cotton Balls You need them for removal, but they can also be used for fuzzy manicures.
Ballpoint Pen It works best if you can find out that is out of ink, but they make great dotting tools.
Sponges A basic makeup sponge, not the kitchen variety but I wonder how that would work out... Anyway, your basic, cheap, triangle makeup sponges are great for things like marbled and gradient nails.
Avery Reinforcement Stickers You know the little round stickers they sell to reinforce 3-hole punch pages? These can be used for half-moon manicures, dots, even french manicures if your nails are the right size.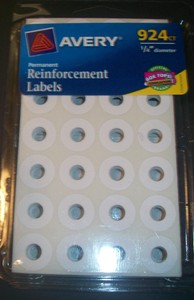 Garage Sale Labels Work the same way as reinforcement labels, they're usually larger. I've heard these work really great for Ruffian manicures.
Stickers Small stickers can be used as nail art stickers. Apply to dry nails, apply top coat. I'm personally not a fan of this. I like using the stickers for their intended purpose, however....I like to take the outline (you know...the "extra" that usually comes on sticker packs, the outline) and use them as stencils.
Temporary Tattoos This is also from a cutepolish video. It can be hard to find certain tattoos that will fit or that aren't part of a larger tattoo. But..I've been able to find things like stars, and "jewelry" tattoos that have made for some nail art. I would suggest looking at Dollar Stores and Walgreens in the childrens section.
@cutepolish tutorial from YouTube
How I used this technique
Plastic Wrap Excellent tool for doing marbled nail art.
Tea Bags Check out how to fix a broken nail in this video from DeeVine DeeZine @ghostbusterdeena